10 Best Windows Themes/Skins To Improve Your Windo
Top 10 Windows Themes/Skins To Enhance Your Windows 10 Appearance
If you are using a Windows computer, you must be very aware of what does a Windows theme or skin means. Basically, themes and skins are same. When we talk about Windows, we always use the term "Theme", but if we use a 3rd party software to customize Windows look, we use the term "Skin".
A Windows Theme/Skin is a collection of modifications to the interface which changes the way Windows appears and feels. When you change a Windows theme, it changes the standard Windows icons, mouse cursor, and desktop background, as well as new icons for My Computer, My Documents, My Network Place, Recycle Bin, and other standard Windows programs. Each theme can be related to cartoon characters, movies, specific sports teams (or a general sport), nature, celebrities, vehicles, and just about any other interest that you can imagine.
It's been a while since Windows 10, the new operating system for Windows has been out and guess everyone would have updated their systems to Windows 10. Now, it's time to make your computer screen more attractive by putting up a fantastic Windows theme and giving it a very fresh look.
In this article, we bring you best 10 cool Windows 10 themes/skins for your PCs and laptops in no particular order: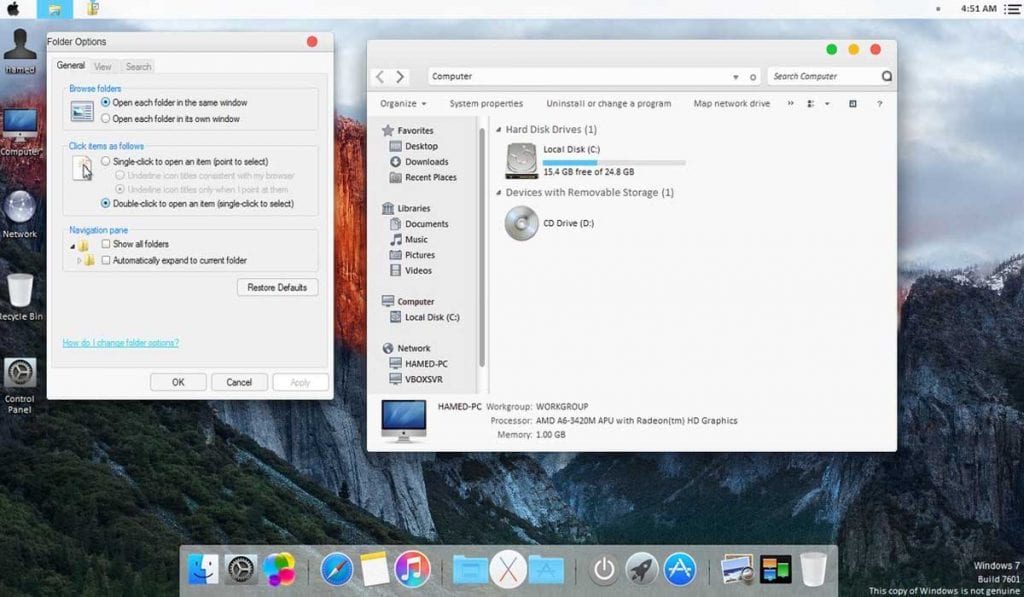 The name says it all. OS X El Capitan gives you the chance to experience the Mac OS X in your Windows 10. Mac OS X EI Capitan is one of the best and cool Windows 10 skins that will offer you a great experience like Mac desktops on your Windows. This is a must try out for Windows 10 users!
2. Flattastic
This is one of the top and best themes that has a minimalistic look but looks awesome when used on your Windows 10 computer. This theme has sixteen versions, which includes 8 versions of Flattastic Light theme and 8 versions of a Flattastic Dark theme.
3. Aero Glass
Another cool theme that gives you an Aero style glassy transparent interface on your Menu on Windows 10 PC.
4. StartIsBack
If you are missing the cool interface of Windows 7 on your Windows 10, then you should definitely try out this theme. This theme will provide Windows 7 features like start button interface on your Windows 10.
Diversityx VS is one of the Windows 10 custom themes that provides an amazing classic look to your computer/laptop. Its dark, as well as a cool glassy transparent interface, enhances the look of your Windows 10. People who work in the night will love this interface, as it is very comfortable to use.
This cool theme completely transforms your Windows UI looks and gives you the experience of using the Ubuntu operating system on your Windows 10. One of the best themes for Windows 10, most of the features of this software can be customized, such as the color theme, keyboard shortcuts and mouse gestures Basically, Ubuntu Skin Pack refreshes your Windows interface with some great appearances.
Yet another beautiful, clear and simple theme, with a blue sky with clouds (Windows 10 native visual style) in the background. It offers an interface that looks similar to any cloud service. This theme is borderless since there are no borders defining the sides and edges of lines drawn by ra uler. It changes and enhances the overall look of your operating system.
8. Silk
Silk theme for Windows 10 is one of the beautiful themes that you can try on your Windows 10 computer. It will completely change your screen to an attractive notebook and make it appear beautiful and colorful. You can also customize its colors, according to your requirement. It allows you to arrange your windows and opened folders in a way such that they appear like a handful of cards fanning out on your screen in a beautiful cascading effect, one after the other.
The most amazing theme or skin that adds a Windows 7-style Start menu with Windows 10 enhancements. It also offers a fully customized screen that you will love to have on your Windows 10 desktop.
10. FootPaths Theme
Nature lovers will love this theme. Based on nature, this theme gives images of country lanes, wooden stairs, forest trails, and other scenic paths. This theme contains eleven HD wallpapers of nature that will ultimately change your Windows 10 experience.
bxh.cpu@gmail.com
02/04/2018
Bình luận